Western Fashion Trends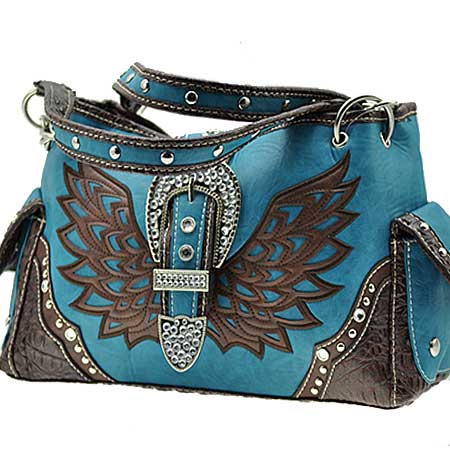 When you work in fashion you need to be up to date on all the latest trends. Missing a designer's fall show or the latest brand look book can be a big mistake and cost you customers and money. Fashionistas are fickle and if they don't see what they like in your store or showroom there's very little chance they will return. Don't be the victim of yesterday's styles. Keep up to date on all the latest western fashion trends with help from Best Handbag Wholesale.
Let Us Help Keep Your Savvy Customers Satisfied
We aim to be the one-stop online shop for retailers who need to keep their savvy customers satisfied so we offer a few tips to keep you up to date on the trends in western fashion.
Western Handbags – Always a staple of any fashionable woman's wardrobe, the handbag is an essential item that comes in many chic styles. With budgets tightening across the board, look for more designer inspired western handbags this year. Buying big brand names is getting very costly and women who want the designer look without forking over a small fortune are getting comfortable with designer inspired handbags and purse that look just like the real thing but are only a fraction of the cost. Keep eyes out for handbags featuring front tassels with metal and rhinestone studs.
Rhinestone Jewelry – Stunning jewelry never goes out of style but expect to see a lot more stretch bracelets on the arms of fashionable women this season. These one size fits all bracelets are becoming more popular and the colors being sported span the spectrum of ocean turquoise to coral pink. Genuine glass crystal and shiny rhinestones will be blinging from coast to coast and this is one trend you don't want to miss.
Long Sleeve Hoodies – Hooded sweatshirts have been around a long time but the athletic wear has been enjoying quite a revival ever since Facebook founder Mark Zuckerberg started wearing them to board meetings. This year expect to see a lot of light long sleeve hoodies with rhinestone decorated fronts printed sleeves. Hoodie tees are loose, comfortable and come in a great selection of colors and styles.
Call (972) 488-4786 For Wholesale Handbags at Discount Prices
---
Contact Us
Besthandbagwholesale®
11532 Harry Hines Blvd suite A-100
Dallas Tx 75229
Phone # 972-488-4786
Fax # 972-488-1251
Toll Free # 1-866-787-7371
Email - sales@besthandbagwholesale.com
rik@besthandbagwholesale.com ( For bulk orders only )