Wholesale Cowhide and Hair-On-Hide Western Belts
Give your customers the best in fashionable Western belts with our wide selection of wholesale cowhide leather belts. Featuring an all genuine leather strap and double screw on belt buckle tab, our wholesale cowhide belts come in variety of men's, women's and children's sizes including small, medium, large and plus sizes. All rhinestones and studs on the belt straps are riveted and covered on the back for a smooth feel and durable hold. Choose from a terrific variety of rhinestone adornments including stars, crosses, studs and glass crystal gemstones. Great for retailers and merchants, our wholesale prices keep overhead low while awesome Western styles keep sales up.
More Information About Wholesale Cowhide and Hair-On-Hide Western Belts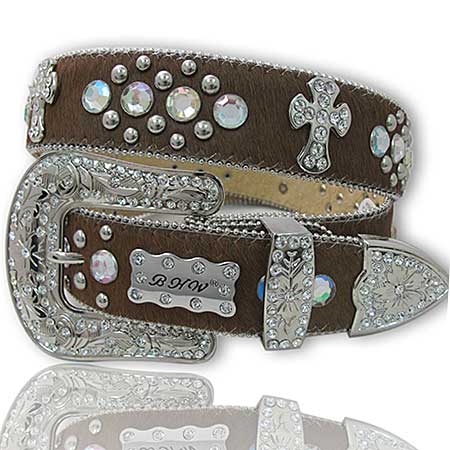 A great western look is genuine hair on cowhide leather and at Best Handbag Wholesale we feature a wide selection of hair on hide western belts that invoke the true spirit of the great American west. Available in a great selection of sizes from kid's belts to 3xl plus size belts we offer retailers the chance to stock their shelves with the latest in western fashions and our hair on hide cross belts are sure to be a hit with your discerning clientele.
Leather Straps
Leather straps are great for western belts but for a truly genuine and authentic western look nothing beats hair on hide. Hair on hide leather has an exquisite look and feel that is both rustic and stylish and with our great selection of rhinestone and glass crystal adornments you'll have no trouble selling our hair on hide belts. One of our more popular models is the wholesale hair on hide cross belts that feature a genuine hair on cowhide leather belt strap, double screw on belt buckle tab and stunning glass crystal ornaments in cross shapes for a fitting western fashion accessory.
Cross Belts
Cross belts have been popular for quite some time and as a retail store owner you want to give your customers the most popular fashion apparel and accessories available. By creating an account with Best Handbag Wholesale you gain access to the full inventory of wholesale western belts and fashion apparel at great discount prices so you can satisfy all your loyal customers. In addition to a wide selection of hair on hide cross belts we also feature wholesale women's handbags, rhinestone jewelry, flip flops and women's winter boots to keep your clientele coming back for more.
Call (972) 488-4786 For Wholesale Belts at Discount Prices