Wholesale Cross Handbags:
Religious Crosses, Bible Verses, & More
Great for shops, flea markets, online stores, and more!
Invoke the true style of the great American West with any of our high quality wholesale cowgirl cross handbags. We offer a terrific selection of high quality women's handbags in contemporary styles including hobo bags, messenger bags, satchels and totes that feature soft leatherette materials, colorful patterns and dazzling rhinestone cross adornments. From embossed leatherette to soft washed leatherette material we offer a superb selection of discount handbags and purses to stock your retail shelves. We also carry a great selection of rhinestone cross Bible covers and flat wallets to accessorize any Western cross handbag.
More Info About BHW Cross Handbags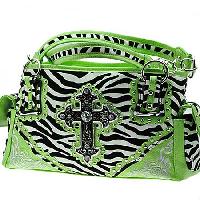 One of the more popular styles of western handbags is the rhinestone cross model. At Best Handbag Wholesale we carry a terrific selection of high quality wholesale western cross handbags that feature rhinestone studded crosses and border patterns that will give your customers just the right amount of bling to accessorize their favorite outfits. When shopping our extensive online inventory of wholesale fashion bags you'll find many popular handbag types including totes, duffel bags, satchels, messenger bags, pouches and hobo bags to give your clientele a great selection to choose from. Best Handbag Wholesale sells to retail store owners and other commercial businesses that have an account with us so register today and gain access to some of the best western cross handbags on the market.
Western Style
The cross symbol has a long and storied history in the American west. From early missionaries to cowboys and settlers the cross symbol is synonymous with the wild west and if you're looking for a stylish handbag that will proudly and prominently display the cross check out the growing collection of rhinestone cross handbags available at Best Handbag Wholesale. From simple clutch purses to large messenger bags we offer high quality wholesale handbags made from many different types of materials including soft washed leatherette, sheen materials and houndstooth. Many of our discount women's handbags feature two-chain leatherette straps, two side pockets and top zip closure. Each also features a decorative front rhinestone cross ornament.
Get More for Less
When you create an account with Best Handbag Wholesale you enter a world of high quality fashion at affordable prices. In retail the trick is to keep your costs low and by buying direct from us at wholesale prices you can keep your books in the black while still providing your loyal clientele with all the stylish western handbags, belts, wallets and accessories they need to stay hip. We offer many styles of rhinestone cross handbags to satisfy all your customers. From teens to women and everyone in between you are sure to find the right wholesale purses at Best Handbag Wholesale.
Call (972) 488-4786 For Wholesale Handbags at Discount Prices