Wholesale Plus-Size Belts
Western and Rhinestone Belts in Plus-Sizes
If your store caters to the big and tall then shop our great selection of wholesale plus size western belts that come in a variety of sizes including large, XL, 2XL and 4XL for both men and women. We offer a terrific selection of popular western belt themes including genuine cowhide leather straps, rhinestone studded buckles, double screw on belt buckle tab that makes it convenient to size up the belt and a variety of vivid strap colors including black, brown and red. All our plus size wholesale western belts are adorned with a variety of rhinestone embellishments including crosses, studs, stars and glass crystal pendants.
Learn More about Wholesale Western Belts in Plus Sizes from Best Handbag Wholesale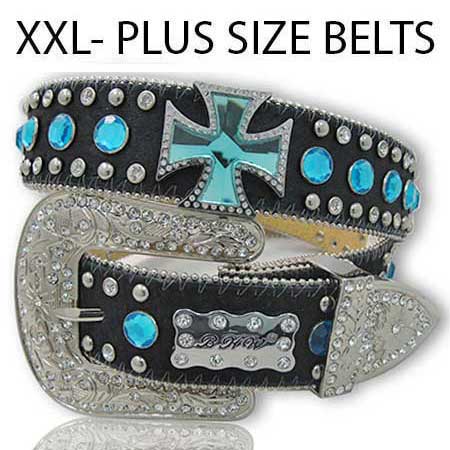 If you're tired of hearing customer's complain that you don't have the right sizes when it comes to western belts take care of that problem by shopping the great selection of plus size wholesale western belts at Best Handbag Wholesale. In addition to large sizes we also have a full selection of xl, xxl and 3xl plus size belts in hot western fashions to accessorize many outfits. You'll find all of our great belt designs in plus sizes including turquoise crosses, rhinestone studs and genuine cowhide leather belts with glass crystal buckles to give your customers excellent choices when it comes to selecting a western style belt.
Signature Western Belts
We offer the full line of BHW signature western belts in plus sizes so your customers don't have to sacrifice style. From genuine cowhide leather straps and genuine crystal glass studded ornaments to double screw on belt buckle tabs and turquoise gemstone crosses our plus size western belts are fashionable and made to fit all sizes. Whether you own a hip retail shop or operate a flea market stand, the Best Handbag Wholesale plus size western belts will definitely be welcome additions to your inventory.
Best Handbag Wholesale
Don't waste your time searching around web sites and trade shows for the right plus size belt supplier. Create an account today with Best Handbag Wholesale and gain access to our full inventory of wholesale western belts, designer inspired handbags, western jewelry and rhinestone flip flops. With our wholesale prices and huge selection of fashionable western apparel we make it easy for retail store owners to find the merchandise their clients are looking for.
Call (972) 488-4786 For Wholesale Handbags at Discount Prices