Wholesale Concealed Weapons Purses & Handbags
When you cater to a sophisticated and stylish clientele you need to be on top of your game. These day's fashionable women still like to be looked at but not messed with. That's why we carry our exclusive concealed weapon western handbags. Concealed weapon permits are becoming more popular with women who feel threatened when they walk out alone at night and instead of having to wear a firearm on your body, now your loyal customers can safely conceal it in one of our stylish handbags.
At Best Handbag Wholesale we offer a wide variety of beautiful and stylish concealed carry handbags at wholesale prices so you can keep your shelves stocked with products that are sure to sell.
Featuring many of the same qualities as other wholesale handbags, including top quality soft leatherette materials, two compartments with magnetic closures and rhinestone buckle closures these stylish western purses also have a secret back compartment to carry handguns. Let your clientele step out in style and confidence with high quality concealed weapon handbags.
Great for retailers, flea market vendors, online merchants, and anyone else who needs to make sure their customers have access to the most stylish Western-style concealed weapons purses out there!
More Information about Wholesale Concealed Weapons Purses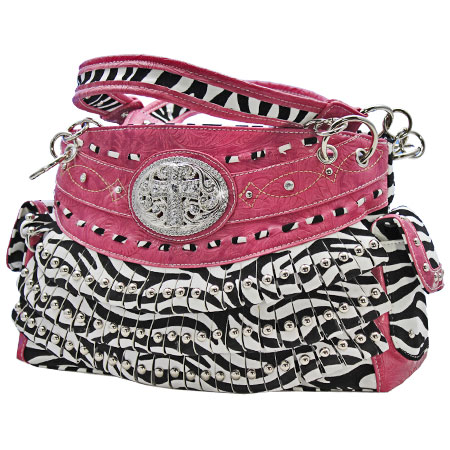 At Best Handbag Wholesale our goal is to bring retailers of contemporary western fashion the best handbags and accessories possible. We also enjoy brining new items to the market that will be welcomed by your loyal clientele. Recently we added the special concealed weapon handbag to our inventory and we're sure you have more than a few clients who will be interested in this stylish and protective purse.
Women no longer have to use their bulky purse as a weapon. Now, with our stylish and functional concealed weapon handbags women can feel safe and stylish when out alone. If your clients have a concealed weapon permit and carry a firearm for protection it can be awkward trying to conceal it. Not many outfits are designed with pistols in mind. However, with our convenient and stylish women's handbags your clientele can now easily carry their firearms and not worry about clashing with the outfit.
Let's face it; it's not always a wonderful world. Women consistently feel threatened when walking alone, either in cities or shopping malls and many have had horrible encounters that have led to them applying for and getting concealed weapons permits. Unfortunately not many firearms are designed to go with stylish outfits and in order to maintain a sense of style while still feeling safe, Best Handbag Wholesale offers terrific concealed weapon handbags that fit many traditional and contemporary outfits.
These wholesale purses come in a wide variety of styles and feature top quality soft leatherette material, two compartments with magnetic enclosures, a front decorated with rhinestone ornaments and a back pocket that can easily and safely carry a handgun.
If you have clients that know their 2nd Amendment Rights and refuse to be hassled by thugs and bullies, consider stocking your shelves with our classy and stylish concealed weapon handbags.
Call (972) 488-4786 For Wholesale Handbags at Discount Prices