Wholesale Handbags made from Quality Genuine Leather
Great for Vendors, Retailers, Merchants, and More in Stores, Flea Markets, Online, and Worldwide!
Accept no imitations! Get great wholesale deals on our amazing selection of Western-style, genuine leather purses and fashion handbags. Our designer-inspired leather handbags come in a variety of colors and styles to satisfy a wide variety of stores, markets, sellers, and customers. Whatever your style and wherever you sell, your customers will love our bags as much as you'll love our low wholesale prices.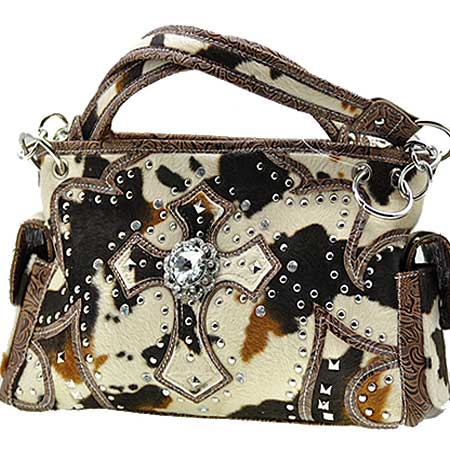 When you need high quality, wholesale leather handbags for your retail store, flea market stand or trade show check out the huge selection of discount leather purses at Best Handbag Wholesale. Offering the latest designs, high quality materials and affordable prices, our selection of western and designer inspired handbags are perfect for retailers who want to keep their clientèle hip to the latest trends in handbag accessories. When you register an account with Best Handbag Wholesale you enter a discount fashion accessories that will allow you to keep your shelves stocked with the latest handbag styles at a price you can afford.
Benefits of Buying from Best Handbag Wholesale
Great Styles of Western Purses
In our genuine leather handbag line you'll find terrific Western purses including rhinestone, cross and cow print handbags that are practical, functional and fashionable. Featuring creative designs, eye-catching colors and graphics and comfortable shoulder straps our wholesale handbags are just what chic women are looking for and with these items in your shop you can count on long-term customer satisfaction. You know how fickle shoppers can be and if they don't see what they like they probably won't be coming back. Make sure you have the right fashion accessories to make your shop or stand impossible to miss.
Wide Selection & Discount Prices
The benefit from buying western purses from Best Handbag Wholesale is the wide selection and the discount prices. If you've been struggling to find a handbag distributor who has the variety your clientele demands, then Best Handbag Wholesale is the place for you. Our wholesale leather purses run from messenger style skull and cross bone designs to genuine hair on hide cow print so you can give your customers plenty of choices when it comes to western fashion.
Deal With One Supplier
Instead of dealing with multiple suppliers simply create one account with Best Handbag Wholesale and gain access to high quality women's purses that are the epitome of western style. We're always adding to our handbag showcase so visit often to get the latest in handbag trends and discount prices.
Call (972) 488-4786 For Wholesale Handbags at Discount Prices