How to Choose the Perfect Handbag for Work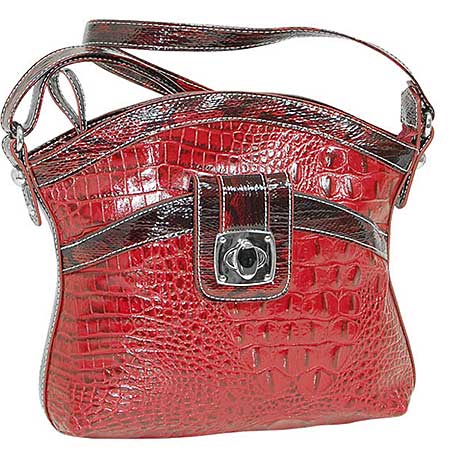 A work handbag is an essential part of your wardrobe. It allows you to carry all of the essential items you need for your job, as well as your cell phone, keys, wallet, makeup, and many other things you use on a regular basis. Choosing the right style and features is important. Here are some tips to help you decide on the best handbag for work.
Features to Look for in a Handbag
Figure out what you will need to carry in your handbag on a regular basis and choose a bag that is the appropriate size. If you need to carry a laptop, make sure it will fit and will be easy to get in and out of the bag. Make sure there will be enough space for all of your other necessary items.
Organization is important. You don't want to be rummaging for a pen in the middle of a meeting. Choose a bag with pockets so you can separate items to make them easy to find when you need them.
Choose a quality leather handbag. You may have to spend more for a good bag, but it will last you longer than a cheaper one because of the better quality materials and construction. A leather handbag is a wise investment.
You want a bag that will be comfortable to carry, either on your shoulder or in your hand. Look for one with convertible handles and straps so you can carry it both ways to avoid hurting your back and shoulders.
A good work handbag should be timeless. Don't choose a bag with a big logo that may not be in style next season. Choose a classic and simple design.
Select a color that is appropriate for your work environment. If you work in an office with a conservative dress code, choose a neutral color. If you work in a creative field or a more laid-back environment, you can choose a brighter color.
Where to Order a Handbag for Work
Selecting the right handbag for work is important since you will be using it nearly every day. You want a bag that is large enough to carry everything you need without being overwhelming. It should be easy to keep organized and made of durable materials so it will last. Best Handbag Wholesale has many quality and stylish handbags that are perfect for a workplace. Place your order today.
Call (972) 488-4786 For Wholesale Handbags at Discount Prices
---
Contact Us
Besthandbagwholesale®
11532 Harry Hines Blvd suite A-100
Dallas Tx 75229
Phone # 972-488-4786
Fax # 972-488-1251
Toll Free # 1-866-787-7371
Email - sales@besthandbagwholesale.com
rik@besthandbagwholesale.com ( For bulk orders only )